Sale price
$799.99
Regular price
Unit price
per
Sale
Sold out
Eligible for free shipping
View full details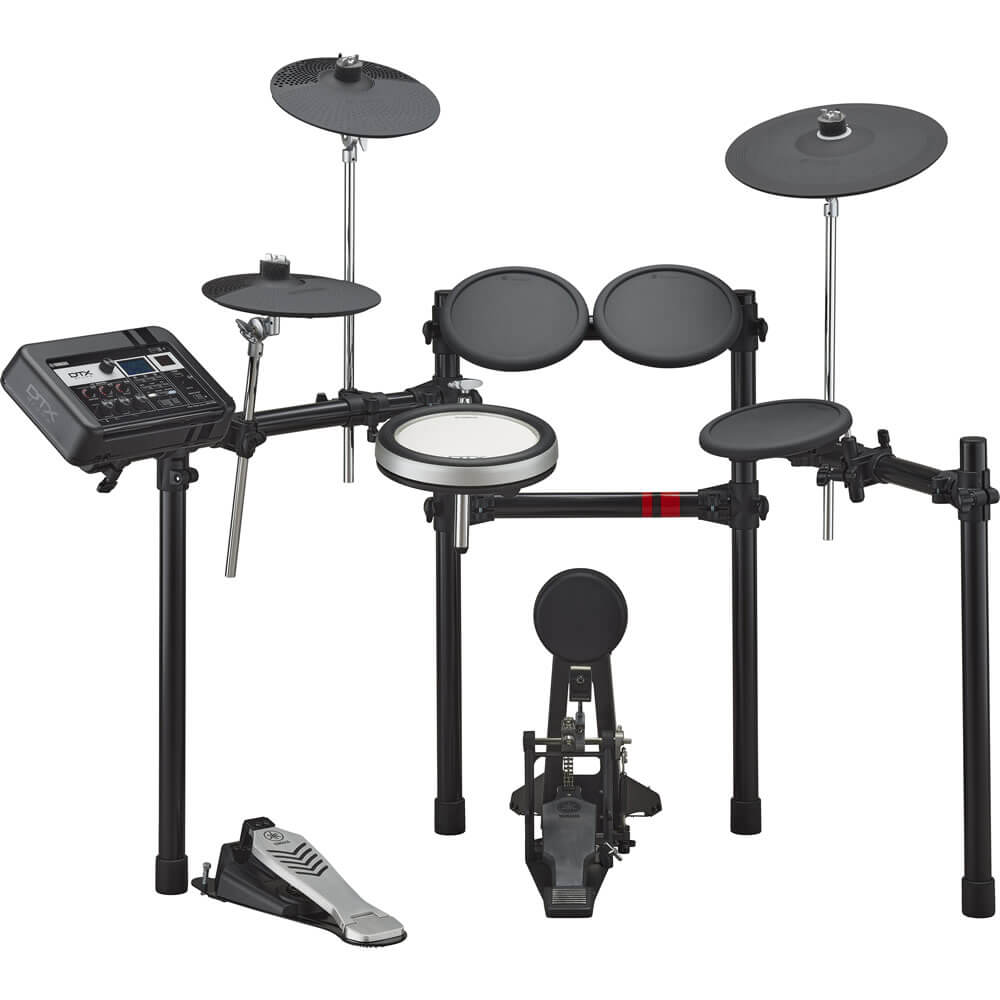 Introducing the Yamaha DTX6K-X Electronic Drum Set with the new Yamaha DTX-PRO Drum Module, the Yamaha RS502 Rack System, Yamaha XP80 8-inch electronic snare and tom drum pad (x1), Yamaha TP70 7.5-inch rubber Snare/Tom pad with 3-zones (x3), Yamaha KP65 Kick Tower Pad, Yamaha HH65 Hi-Hat Controller Pedal, Yamaha PCY95 10-inch Cymbal Pad (x2), and the Yamaha PCY135 13-inch cymbal pad with 3-zone structure.
The DTX 6 series features a robust module with features unlike any module on the market. The DTX-PRO module with the innovative KIT MODIFIER sparks creativity and authentic playing experience in a compact configuration.
In the KIT MODIFER, the experience of Yamaha and our voicing that has been cultivated over many years has been condensed into three knobs: AMBIENCE, COMPRESSION, and EFFECT. With the simple twist of a knob, it is possible to express a wide range of sounds, from natural acoustic to the unique sounds created by professional engineers and producers.
In addition, the original Yamaha TCS (Textured Cellular Silicone) head used in the flagship models combined with the real sound and ambience, recorded in a world renown studio create an authentic player experience. This along with the intuitive sound customization, compact pad format with high functionality and excellent feel creates a balanced and realistic drumming experience.
Advanced streaming USB audio and MIDI information allows connectivity to numerous devices for recording, streaming and the Recƒ??nƒ??Share app without additional input gear. Create high-quality videos for your socials without leaving the drum throne. The module includes individual inputs allowing for hybrid setups or easily augmenting the kit with more pads.
The ability to layer up to four sounds per pad, along with stacking two different effects ignites creativity and allows you to customize your sound with professional studio quality.
The rich practice functions of DTX-PRO make you a better drummer, quicker! Programmable metronome with high functionality as sophisticated metronome, Recorder function, 10 training functions that are perfect for training drummerƒ??s sense of rhythm, various genres of 37 training songs, and so on. From beginners to professionals youƒ??ll find useful functions for daily training.
With unparalleled sounds and features the DTX6 Series is recommended for all drummers who want to have fun, play like a pro, and easily transfer the experience to acoustic drums. This kit feels and sounds so good, you canƒ??t put the sticks down.
Yamaha DTX6K-X Electronic Drum Set ƒ?? Features:
40 New Preset Kits, 200 User Kits and over 400 New Voices
Faithful reproduction of real sound and ambience recorded in a well-known studio
AMBIENCE, COMP, EFFECT knobs as KIT MODIFIER to create your own sound
Three zone pads are used for the snare and ride.
XP80 Yamaha TCS head on snare provides a natural feel and rebound for versatile performance and expression with open and closed rim playability
PCY135 cymbal pad can be choked and muted. The ride cymbal is also equipped with positional sensing function for more dynamic playing.
Built on Yamahaƒ??s interchangeable hardware, including Yamahaƒ??s traditional ball clamp to secure and adjust the snare pad