Sale price
$219.99
Regular price
Unit price
per
Sale
Sold out
Eligible for free shipping
View full details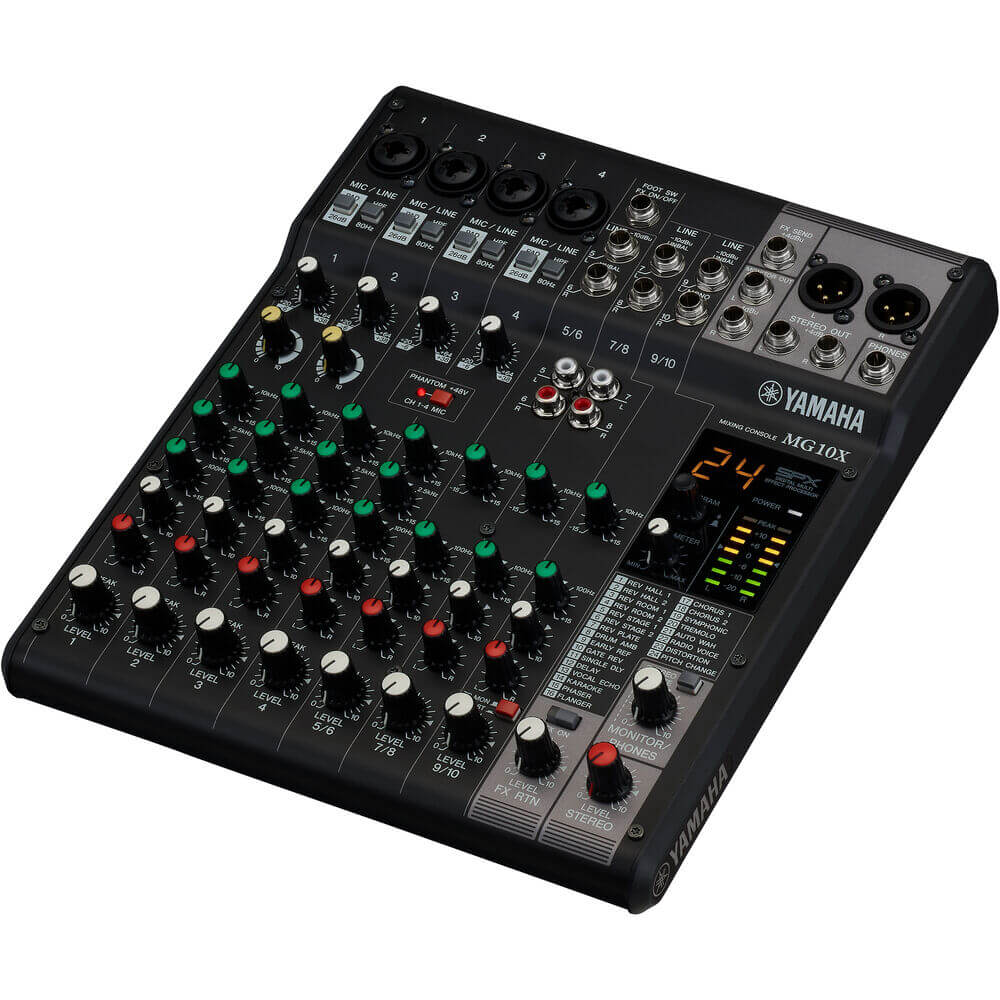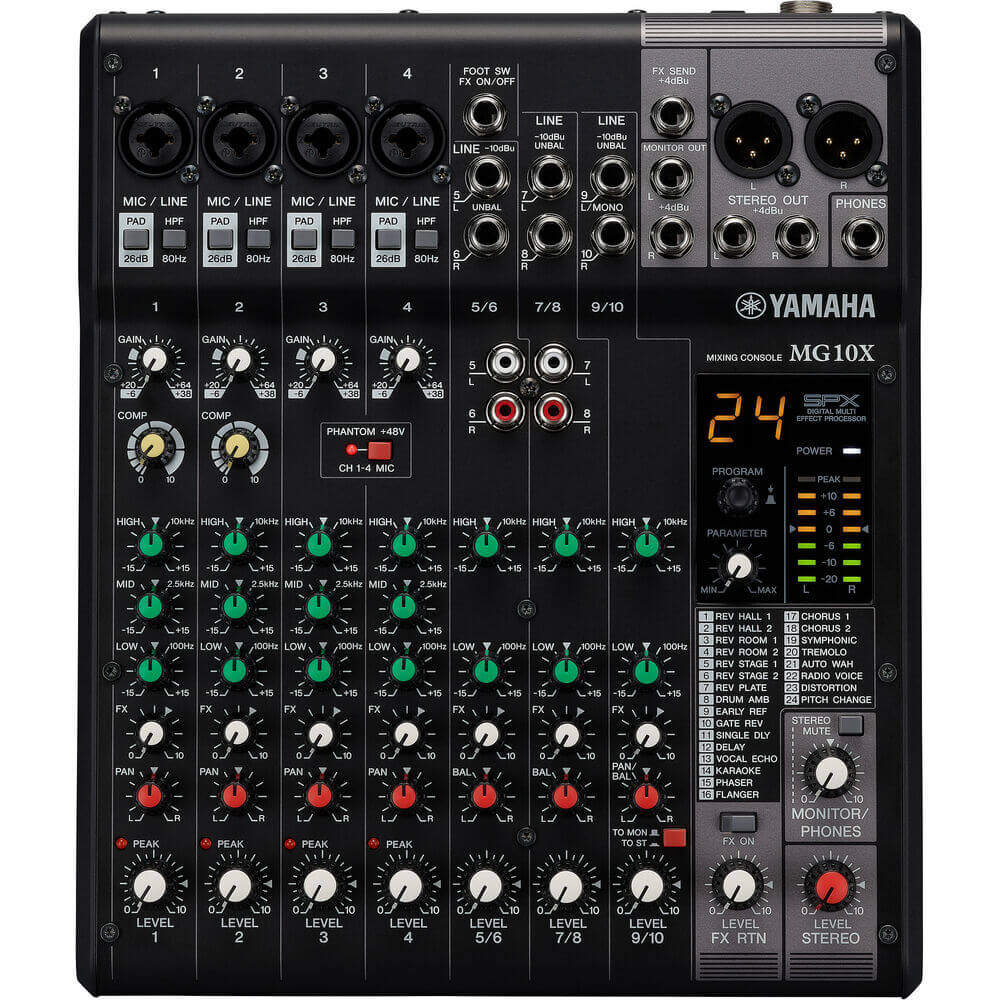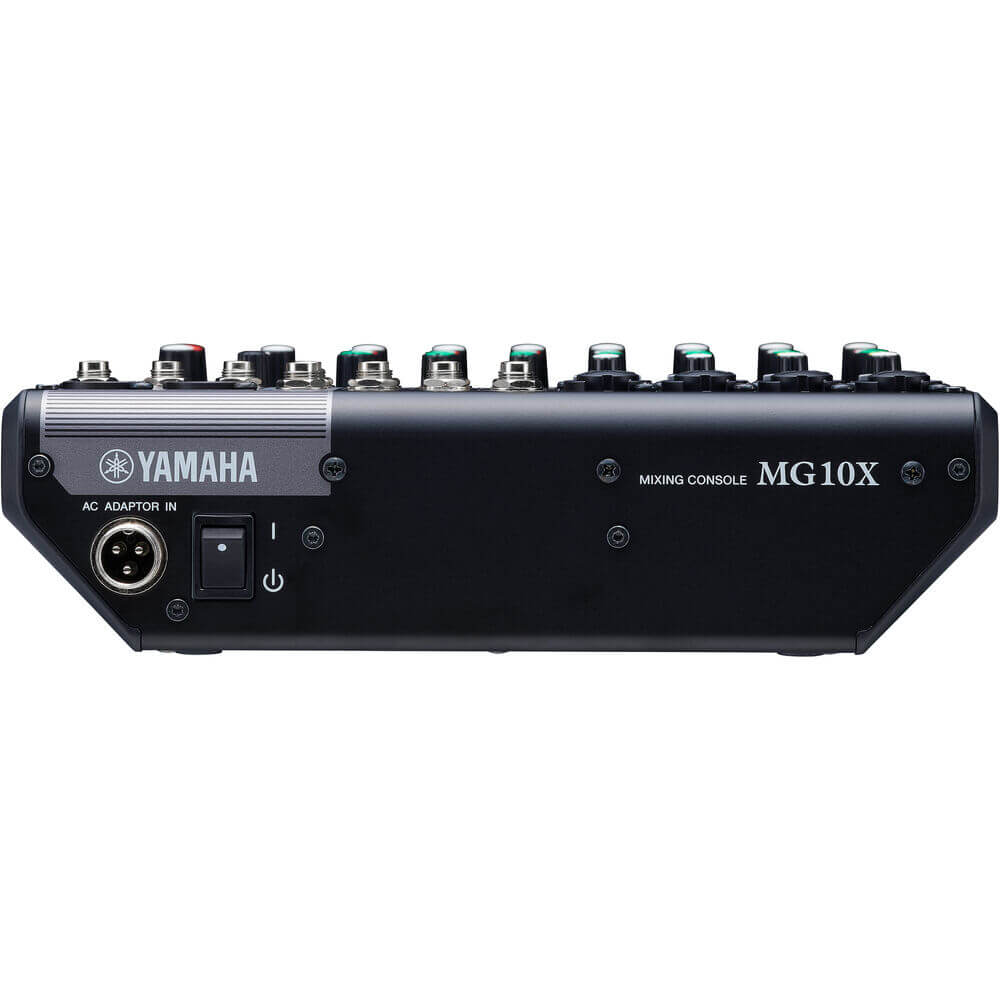 Audio professionals looking for a high-quality analog mixer with integrated effects will be impressed with the Yamaha MG10X CV 10-Input Mixer with Built-In FX, a compact ten-input mixer with built-in effects for performances, lectures, recordings, and similar applications. The mixer features four mic/line combo inputs with D-Pre mic preamps as well as six 1/4" line inputs with stereo level controls. Each of the four mic/line inputs is equipped with a 3-band EQ, pan control, and a high-pass filter. The four D-Pre mic preamps feature an inverted Darlington circuit and switchable 48V phantom power for use with dynamic and condenser microphones. They also each feature 26 dB attenuation switches for recording loud sound sources such as guitar amplifiers. Channels 1 and 2 are equipped with Yamaha's 1-knob compression for easy adjustment and professional results.
The MG10XU mixer has stereo XLR and TRS outs for connecting to your PA system or monitor speakers. It also has a 1/4" headphone output with level control for personal monitoring as well as additional TRS 1/4" stereo monitor outs for sending to powered speakers, amplifiers, or devices such as digital recorders. Each of the MG10XU's channels feature a dedicated FX bus send level, and there are 24 effect presets to choose from. The overall level of the FX bus is controlled by the dedicated FX return level control. Providing reverbs, delays, phaser, flanger, chorus, tremolo, auto-wah, distortion, and more, these effects can be used to help vocals and instruments sit better in your mix.
Yamaha MG10X CV 10-Input Mixer with Built-In FX - At a Glance
4 mic / 10 line inputs (4 mono + 3 stereo)
1 stereo bus
1 aux (including FX)
D-Pre mic preamps with an inverted Darlington circuit
1-knob compressors
High-grade effects: SPX with 24 programs
Pad switch on mono inputs
+48V phantom power
XLR balanced outputs
Metal chassis
1-Knob Compressors
Compression plays an essential role in just about any recording or sound reinforcement environment by altering the level of dynamics of an audio signal when you need livelier guitars, punchier bass lines, a tighter snare, or a cleaner vocal sound. However, it can take countless hours to master the complexities of even the most basic outboard compression units and use them effectively. Originally a Yamaha innovation, 1-knob compressors are now an industry standard that gives you instant access to optimized compression settings via a single rotary control.
EQ and High-Pass Filters
There's nothing more useful than reliable equalization when you need nuanced management of your tone. The MG Series benefits from Yamaha's unparalleled experience in designing pro audio gear, featuring 3-band equalizers on all mono channels for precise control of your sound. High-pass filters allow you to eliminate unwanted low-frequency noise, for a smoother, cleaner mix.
Aux/Effects Sends
MG Series mixers feature aux sends for expanding your sound reinforcement or recording setup, allowing you to incorporate additional effects, output to external recording devices, or feed to a monitoring system. Master send controls are also provided.
Built-In SPX Digital Effects
For musical and nonmusical applications alike, effects processing adds polish and professionalism to the mix. The MG10X features Yamaha's acclaimed SPX digital multi-effect processor, offering a comprehensive suite of 24 editable digital effects perfect for enhancing your mix, whether adding depth to a speaking engagement or breathing new color and atmosphere into a live band performance. In particular, the high-quality reverb and delay expand the spatial quality of the sound with remarkable realism and naturalness. You can even connect an optional FC5 footswitch for effect on/off control.