Sale price
$1,587.99
Regular price
Unit price
per
Sale
Sold out
Eligible for free shipping
View full details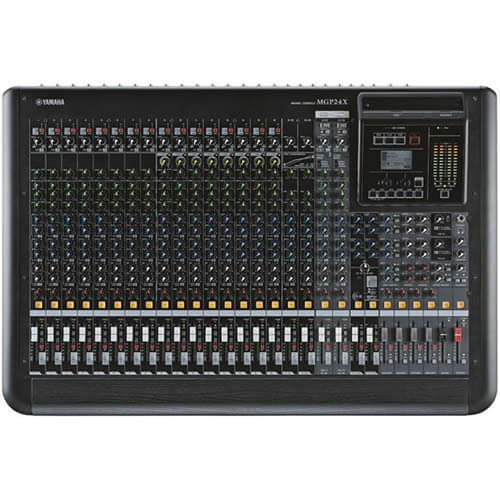 Yamaha MGP24X 24-Channel Mixer
From the preamps, EQ and effects to the Hybrid Channel functions and iPod/iPhone connectivity -- every aspect, every feature, every sound, establishes the MGP24X as a premium mixing console in a class of its own.
Yamaha has provided an impressive range of lineups in professional audio since the release of the PM200 in 1972 -- their first ever professional analog mixing console. In 1987, they also released their first digital mixer, the DMP7, and have subsequently advanced technological innovations in sound quality, reliability and advanced functionalities with cutting-edge digital technologies.
Drawing from their decades of experience crafting innovative, premium analog gear, they originally developed their discrete Class-A microphone preamps for professional use in their high-end recording equipment. Utilizing an inverted Darlington circuit design, their redesigned D-PRE mic preamps deliver a fat, rich, smooth tone that gives the MGP Series a significant advantage over any other mixer in its class.
With Yamaha's proprietary X-pressive EQ they've managed to capture ultimate analog authenticity by unlocking the mysterious secrets behind the expressive sound shaping capabilities of sought-after classic EQ modules.
At the heart of the MGP's compact configuration, they've taken an innovative approach to the utilization of digital technology in an analog mixer; adding high-resolution effects, iPod/iPhone integration and the superb functionality of their Stereo Hybrid Channel to the warmth and musicality of premium analog sound. The MGP Series represents the ultimate balance of the converging technologies that are the heart and soul of Yamaha's extraordinary achievements in professional audio.
In addition to the complete redesign of the internal circuitry -- from the mic preamps to the power supply -- Yamaha also took a more intuitive approach to the knob design and control surface of the MGP consoles. The color coordinated design is not only attractive, but also functional, naturally guiding the console operator's hands to the intended functions.
Yamaha MGP24X 24-Channel Mixer - Features:
16 Mic Inputs with 48V Phantom Power and HPF per Channel
24 Line Inputs (16 mono and 4 stereo)
6 AUX Sends + 2 FX Sends
4 GROUP Buses + ST Bus
2 Matrix out
1 Mono out
Specifications:
Mixing channels: 24 Line Inputs (16 mono and 4 stereo)
GROUP: 4 GROUP Buses + ST Bus
AUX: 6 AUX Sends + 2 FX Sends
MATRIX: 2 Matrix out
On-board processors: FX1:REV-X(8 PROGRAM, PARAMETER control)/ FX2:SPX(16 PROGRAM, PARAMETER control)
Mic inputs: MIC: 16 (INPUTS HPF: 100Hz 12dB/oct)
Phantom power: 48V phantom power per channel
Line inputs: LINE: 16 mono + 4 stereo, CH INSERT: 16 RETURN: 1 stereo
Digital I/O: USB Device, iPod / iPhone
Total harmonic distortion: 0.02% (20Hz-20kHz at +14dBu)
Frequency response: +0.5/-1.0dB 20Hz
20kHz, refer to the nominal output level at1kHz
Hum & noise level:
Equivalent input noise: -128 dBu Equivalent Input Noise
Residual output noise: -94 dBu Residual Output Noise
Crosstalk: -74dB at 1kHz
Power requirements: 100-240V 50Hz/60Hz
Power consumption: 86W max
Dimensions (W x H x D): 32.2" x 6.7" x 22.2", (819 x 169 x 565 mm)