Sale price
$1,599.99
Regular price
Unit price
per
Sale
Sold out
Eligible for free shipping
View full details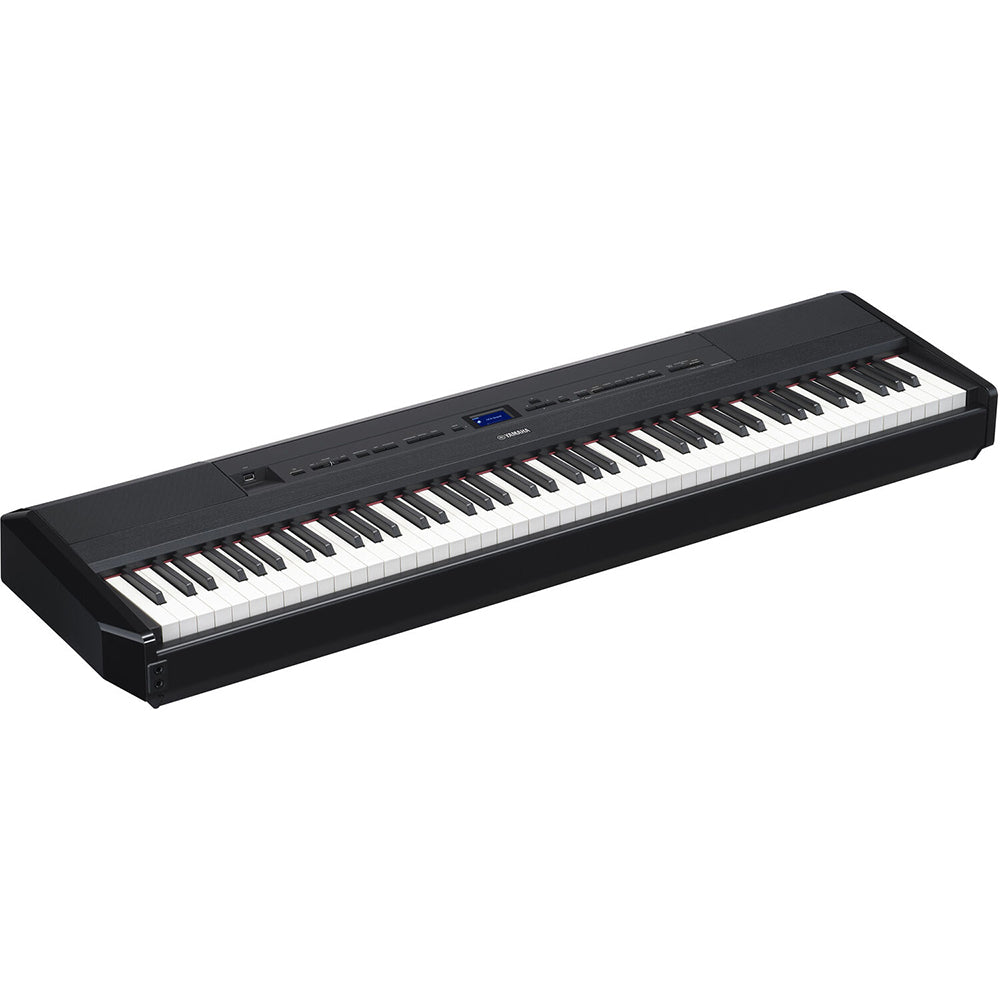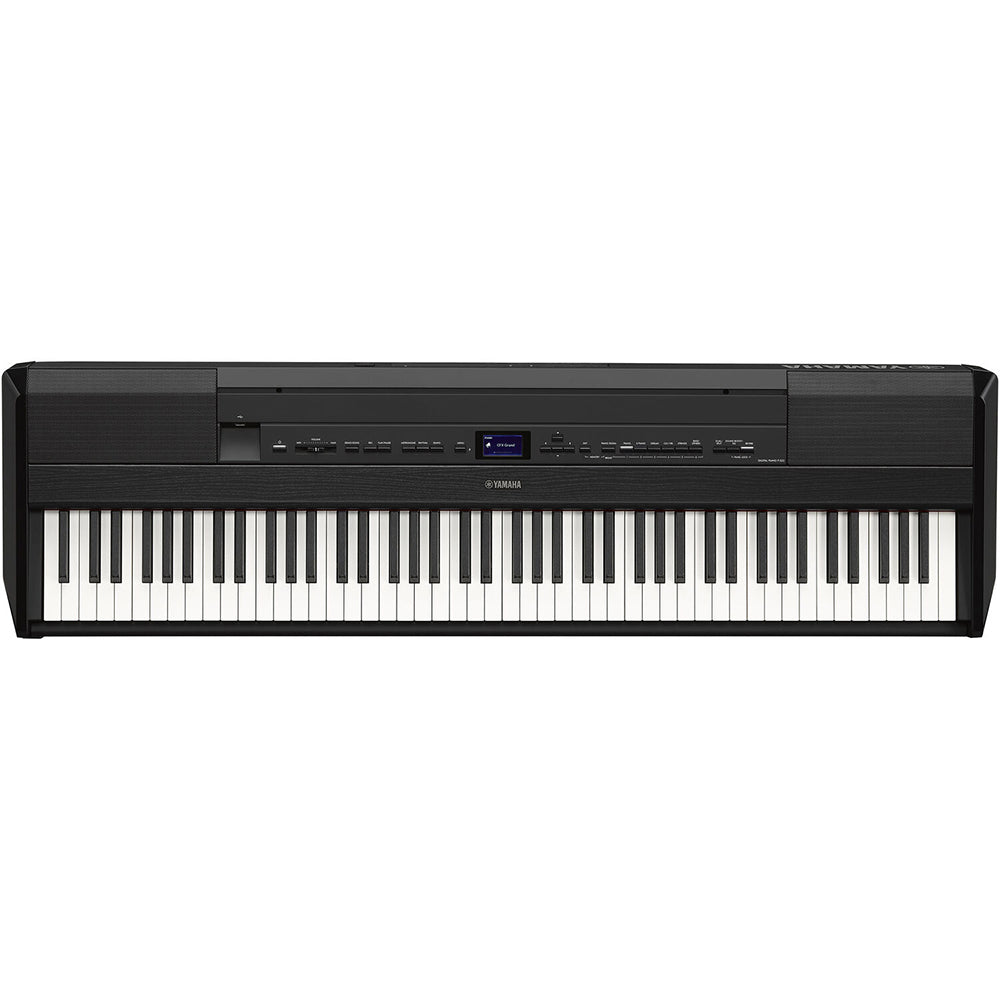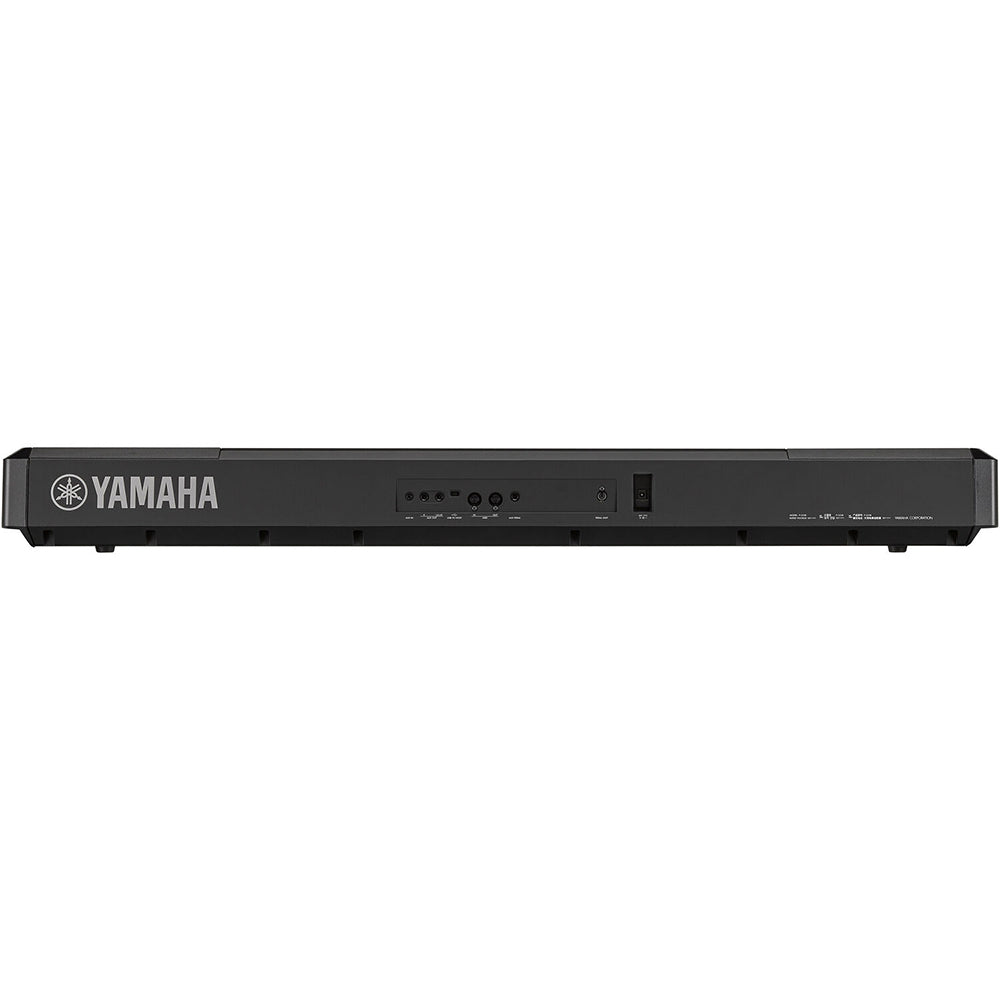 Authentic Grand-Piano Feel and Exquisite Sound for All Levels of Players
Ideal for musicians of all skill levels, from beginners to pros, the black
Yamaha P-525
is a digital piano that offers an incredibly authentic grand-piano feel, exquisite sound, smooth playability, and a range of versatile features in a compact and portable package that's perfect for practicing in the comfort of your living room or bedroom, or even for captivating audiences at parties. The P-525 features gorgeous piano sounds crafted using samples from both the renowned Yamaha CFX flagship concert grand piano and the iconic Vienna-made Bösendorfer grand piano. It delivers the playing experience of a traditional grand piano thanks to its 88-key GrandTouch-S graded-hammer keyboard with real-wood keys and 256-note polyphony. The Grand Expression Modeling technology accurately replicates the nuanced sound variations that occur as you transition from key press to key release, enabling a diverse range of expressive performance possibilities.
A collection of 542 instrument sounds with adjustable effects—18 drum kits, and 40 onboard rhythms—with drums and bass accompaniments over which you can jam—are perfectly suited to many types of music. Jam with the band and use the 16-track MIDI song recorder or audio recorder to capture your performance and play it back later. There are convenient, onstage performance functions for live musicians including the Registration Memory to save preferred settings and Sound Boost to make your sound stand out. Equipped with a high-fidelity, 2-way speaker system, two headphone jacks for quiet practice, modes for splitting or combining sounds, duet mode to practice with a partner, Bluetooth music streaming, a USB audio/MIDI interface for connecting to a Mac/Windows computer, and comprehensive compatibility with iOS/Android smart devices, the P-525 is perfect for pianists seeking a realistic and satisfying playing experience.
As Close as It Gets to a Grand Piano
The P-525 features the delightfully playable GrandTouch-S keyboard—featured in Yamaha's top-of-the-line Clavinova digital pianos—which faithfully recreates the experience of a grand piano. The keyboard simulates the subtle differences between how hard, quickly, and heavily the keys are played, while producing grand-piano-like variety and richness of tone.
With specially seasoned wooden keys, the GrandTouch-S keyboard is exceptionally durable.
The Sound of Two World-Class Concert Grand Pianos
The P-525 harnesses the sounds of two landmark grand pianos: the Yamaha CFX and Bösendorfer Imperial.
The CFX delivers brilliant trebles complemented by a powerful bass, ensuring clarity in every performance.
The Imperial envelops listeners with its distinct, warm Viennese tone.
Grand Expression Modeling Technology
Grand Expression Modeling digitally simulates tonal variance by accurately sensing the slightest differences in the speed and intensity of the keys.
Virtual Resonance Modeling (VRM) recreates the rich tones produced by vibrations and resonance of the strings, damper, body, and duplex scaling of a grand piano in response to the player's input on the keyboard.
542 Varied Instrument Sounds
The P-525 comes equipped with 542 different instrument sounds, including 44 sounds created specifically for the P-525, as well as 18 drum/SFX Kits and 480 XG sounds.
The 44 sounds created for the P-525 include Yamaha's flagship CFX concert grand and 11 other piano sounds, 9 electric-piano sounds, and 6 organ sounds.
You'll also find harpsichord, strings, guitar, and other unique sounds. The realistic, high-quality simulations of each instrument give you access to a broad range of musical expression from a single keyboard.
Minimalist Design, Timeless Elegance
All the sophistication of a grand piano has been crafted into the sleek design of the P-525 portable digital piano.
Drawing inspiration from our long line of iconic acoustic pianos, the P-525 features wooden accents above the keyboard, polished side panels, and a touch of red felt along the key bed.
Two-Way Speaker System Delivers Deep, Clear, Natural Sound
The two-way speakers clearly produce the full spectrum of sound, from substantial bass to light treble, with no distortion or noise. Yamaha angled the speakers slightly toward the bench, so you're enveloped by sound as you play.
Flared bass reflex ports and proprietary sound-absorbing tubes substantially reduce wind noise, vibration noise, and other excess noise, which helps to deliver a higher quality of sound.
The P-525 is equipped with Intelligent Acoustic Control (IAC), which automatically adjusts the sound quality according to your volume settings. This makes it easier to hear by slightly raising the volume of the treble and bass parts to match the characteristics of the human ear.
Convenient Onstage Performance Functions
The P-525 also features the following useful functions for performing on stage or in live spaces.
Sound Boost: This helps your sound stand out when playing along with other instruments or in noisy environments.
Panel Lock: This allows you temporarily disable the front panel buttons to prevent them being operated unintentionally while performing.
Registration Memory: This allows you to save (register) your favorite settings to buttons on the front panel, and then instantly recall the settings while performing.
Access the Features of the P-525 with Greater Ease from the App
By linking the P-525 with our dedicated Smart Pianist app, you can intuitively perform all operations on the P-525 from the screen of your smart device.
There's no longer any need to pull out the manual to see how things work.
Easily Record Sound and Video, and Upload Your Own Performances
If you want to take a video of your performance and share it on platforms such as YouTube and TikTok, Yamaha's Rec'n'Share app is the way to go.
Connect the P-525 to your smart device, and record both video and audio at the same time to complete your video (cable is available separately).
Dedicated Stand and Three-Pedal Unit (Optional)
For those who want to really play the piano instead of enjoying it casually on a tabletop, Yamaha offers an L-515 stand and three-pedal unit LP-1 (including damper pedal with half-pedaling capability) that works just like the pedals on a grand piano.
Also available is the optional three-pedal unit FC35 (which features a damper pedal compatible with the half-pedal function). The included FC3A sustain pedal is compatible with half-pedaling.
Other Features
The P-525 features built-in Bluetooth audio, which lets you pair your Bluetooth-enabled smart device with the keyboard, so you can listen to or play along with your favorite music through the instrument's speakers.
Bluetooth MIDI allows you to use the Smart Pianist app over a wireless connection.
Stereophonic Optimizer for Practice with Headphones
Thanks to Binaural Sampling, when you wear headphones while playing in the CFX Grand Voice, you'll be immersed in a stunning grand-piano sound.
The Stereophonic Optimizer function to achieve a similar effect for the piano sounds other than the CFX.
If you get tired of playing alone, the P-525 comes complete with 40 rhythm patterns (drums and bass accompaniment) in genres such as rock, pop, jazz, and bossa nova. This is also a great way to learn genre-specific rhythms.
Simply playing with your favorite rhythm pattern automatically triggers and controls the drums and bass accompaniment, and you can enjoy the feeling of playing with a backing band.
MIDI Recording: With this method, your performances are recorded as a MIDI file and saved to the instrument or a USB flash drive and played back—helpful during lessons or just for fun.
Audio Recording: With this method, recorded performances are saved to a USB flash drive as an Audio file. Recording is donewithout designating the recorded part. Since it is saved in stereo WAV format of normal CD-quality resolution (44.1 kHz / 16-bit), it can be transmitted to and played on portable music players by using a computer.
The P-525 comes with 71 preset songs, including 21 demo songs appropriate for each sound, such as grand piano, electric piano, as well as various organs including jazz organ, harpsichord, electric clavichord, vibraphone, and more.
USB Audio and MIDI: Record to Your Computer
The USB-to-host terminal allows you to connect the keyboard to a computer or portable device and record MIDI or high-quality audio without the need for an additional interface.
Sound Boost for Bringing Out the Sound of the Piano
The P-525 is equipped with a Sound Boost function that switches to a punchy and powerful sound, great when playing along with other instruments or playing in a noisy environment.